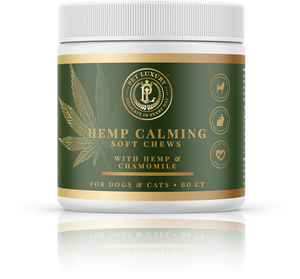 Gentle on digestive systems!
Does your pet suffer from anxiety? Try our new Hemp Calming Soft Chews! Our Chicken Liver Flavored Hemp Chews are for dogs and cats exhibiting nervousness, hyperactivity, discontentment, or responding to environmentally-induced stress. Our grain-free, corn-free, and soy-free soft chews are made with natural preservatives and natural flavors.
This fast-acting formula provides calming support for travel, separation anxiety, fireworks, and thunderstorms. Made with Hemp Seed Powder & Oil which are great for skin & coat health. Made with Chamomile, L-Tryptophan, & Melatonin which all help to calm, reduce aggression & reduce anxious behavior. Safe for dogs and cats.
Chicken Liver Flavored
Fast Acting, Safe & Effective
Reduces 

aggression & anxious behavior

 

Made with Melatonin & Hemp Seed Powder

Proudly made with love in the USA
To ensure quality and safety, our products are made in an FDA-registered, NASC-certified, and cGMP-compliant facility. 
Portions of all sales are donated
to various animal welfare organizations that focus on the health, safety, and psychological wellness of animals.