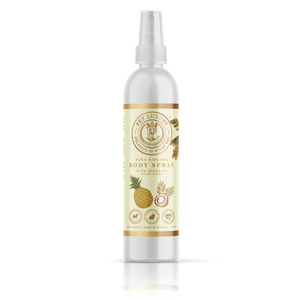 If you like Piña Colada...
You'll love this pH-Balanced Deodorizing Body Spray! It eliminates pet odors without harmful chemicals. This refreshing daily and deodorizing spritz is a water-based formula that utilizes our exclusive blend of Aloe Vera Leaf Juice and the essence of Piña Colada. Perfect for pets with sensitive skin. Safe to use on dogs, cats, and horses. 
Recommended by Veterinarians
Proudly made with love in the USA
Water-based for sensitive skin types

Safe to use with any topical flea treatment

Free of Parabens, GMOs, Dyes & harmful chemicals 
To ensure quality and safety, our products are made in an FDA-registered, NASC-certified, and cGMP-compliant facility. 
Portions of all sales are donated
to various animal welfare organizations that focus on the health, safety, and psychological wellness of animals.