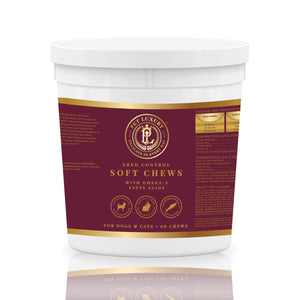 Gentle on digestive systems!
Does your pet constantly shed or experience dry, flaking, and scaly skin? Do you notice your pet incessantly itching? They may be experiencing an essential fatty acid deficiency. Essential fatty acids are those required by the body, but ones that must be derived directly from the diet. Our Shed Control Soft Chews contain naturally harvested oil from Pure Antarctic Krill; tiny crustaceans that thrive in the frigid waters of the Antarctic Ocean. Shed Control Soft Chews contain a synergetic blend of ingredients that can help reduce or eliminate non-seasonal shedding while providing your pet with a healthier and shinier coat. Our proprietary blend contains the powerful antioxidant, Astaxanthin and it is one hundred percent free of industrial pollutants and toxins such as mercury, PCBs, and heavy metals. Safe to use on dogs and cats.
Recommended by Veterinarians
Vegan & Cheese Flavored
Promotes Healthy Skin & Shiny Coat
Reduce Inflammation
Promote new cellular growth
Free of industrial pollutants
Low allergen formula
Proudly made with love in the USA
To ensure quality and safety, our products are made in an FDA registered, NASC certified, and cGMP compliant facility. 
Portions of all sales are donated
to various animal welfare organizations that focus on the health, safety, and psychological wellness of animals.