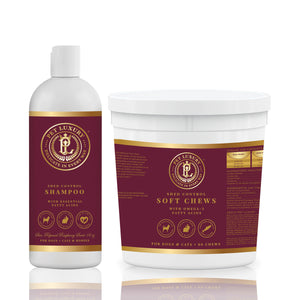 Shed no more!
This gentle yet highly effective combination will help to reduce and improve the condition of constant shedding. Our soap-free, pH-Balanced, hypo-allergenic shampoo is a moisturizing formula rich in Omega-6 Fatty Acids. This essential blend can help to relieve your pet of dry, itchy, flaky, and scaly skin. Formulated with our exclusive deodorizer, Sun-Ripened Raspberry infusion and can be used along with any topical flea treatments. For routine bathing and cleansing where skin hydration, deodorizing, flaking prevention, scaling prevention and overall coat manageability is needed. Safe to use on dogs, cats, and horses.
Our Shed Control Soft Chews contain naturally harvested oil from Pure Antarctic Krill; tiny crustaceans that thrive in the frigid waters of the Antarctic Ocean. Formulated with Omega-3 Fatty Acids, this synergetic blend of ingredients can help reduce or eliminate non-seasonal shedding while providing your pet with a healthier and shinier coat. This vegan and cheese flavored formula is gentle on digestive systems; and contains our proprietary blend of the powerful antioxidant, Astaxanthin. Our Shed Control Soft Chews are one hundred percent free of industrial pollutants and toxins such as mercury, PCBs, and heavy metals. Safe to use on dogs and cats.
Recommended by Veterinarians
Reduce Inflammation
Promote Healthier Skin & Shinier Coat
Promote new cellular growth
Free of industrial pollutants
Low allergen formula
Safe to use with any topical flea treatments
Free of Paraben, GMOs, Dyes & harmful chemicals
Proudly made with love in the USA
To ensure quality and safety, our products are made in an FDA registered, NASC certified, and cGMP compliant facility. 
Portions of all sales are donated
to various animal welfare organizations that focus on the health, safety, and psychological wellness of animals.