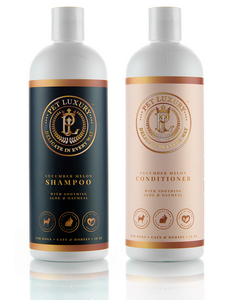 The perfect pairing of two of our flagship products!
Our pH-Balanced, soap-free Cucumber Melon Shampoo & Conditioner duo is blended with soothing Aloe Vera Gel and Oatmeal extract to provide a gentle cleanse with odor control. These advanced formulas will provide a healing and invigorating feeling while deeply hydrating the skin and effectively detangling the coat. Safe to use on dogs, cats, and horses.
Recommended by Veterinarians
Proudly made with love in the USA
Safe to use with any topical flea treatments
Free of Parabens, GMOs, Dyes & harmful chemicals
To ensure quality and safety, our products are made in an FDA-registered, NASC-certified, and cGMP-compliant facility. 
Portions of all sales are donated
to various animal welfare organizations that focus on the health, safety, and psychological wellness of animals.