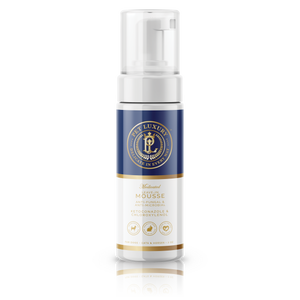 A broad-spectrum Antifungal & Antimicrobial Medicated Mousse.
Our leave-in medicated mousse formula is an Antifungal, Antimicrobial treatment effective against gram-positive and gram-negative bacteria, fungi, and yeast. It is also effective against Malassezia Pachydermatis and Microsporum and Trichophyton ringworm species. The active ingredients will help to reduce the spread of bacterial infections and relieve dermatitis. Infused with Ketoconazole and Chloroxylenol to promote fast healing of your pet's skin. Safe to use on dogs, cats, and horses.     
Recommended by Veterinarians
Proudly made with love in the USA
Safe to use with any topical flea treatment
Free of Parabens, GMOs, Dyes & harmful chemicals
1% Ketoconazole, Antifungal & 2.0% Chloroxylenol, Antibacterial
Works as an excellent foam cleanser & leave-in treatment for problem skin
For conditions associated with Fungi, Yeast, Malassezia, and Trichophyton ringworm species
To ensure quality and safety, our products are made in an FDA-registered, NASC-certified, and cGMP-compliant facility.  

Portions of all sales are donated
to various animal welfare organizations that focus on the health, safety, and psychological wellness of animals.
Customer Reviews
09/27/2021
Sarah G.

United States
Medicated Mousse Wonders
I like it a lot. Works well and helps my dogs skin irritations!
11/18/2020
Terran J.

Canada
No more flakes
This product was so helpful in resolving my bulldogs skin irritation. No more itching, bumps or hair loss.