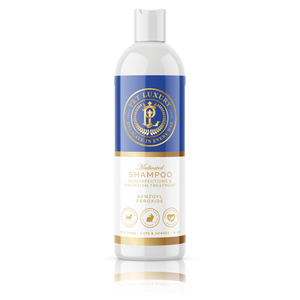 Our pH-Balanced, soap-free Medicated Shampoo is specially formulated for the treatment of skin conditions characterized by infections including Seborrhea, Dermatitis, Schnauzer Comedo Syndrome, and many others. This highly effective formula also helps to resolve Hyper-keratosis and Follicular Plugging while allowing for easier skin penetration and long-lasting relief. Infused with Vitamin E, Aloe Vera Gel, soothing Oatmeal Extract, and refreshing Cucumber to promote fast hydration and healing to your pet's skin. Safe to use on dogs, cats, and horses.     
Made with natural ingredients
Recommended by Veterinarians
Proudly made with love in the USA
Safe to use with any topical flea treatment
Opens & flushes hair follicles for deep cleaning
Works as an excellent degreaser for problem coats
Free of Parabens, GMOs, Dyes & harmful chemicals
For conditions associated with Demodectic Mange, Seborrhea Dermatitis & Canine Acne
2.5% Benzoyl Peroxide & 2% Micronized Sulfur allows for easier & deeper skin penetration
To ensure quality and safety, our products are made in an FDA-registered, NASC-certified, and cGMP-compliant facility.  


Portions of all sales are donated
to various animal welfare organizations that focus on the health, safety, and psychological wellness of animals.