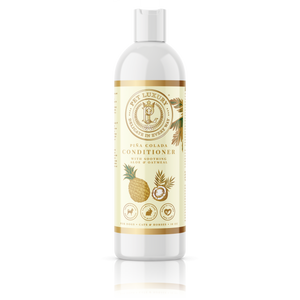 A truly nourishing pH-Balanced Conditioner and Detangler with odor control. Formulated with Aloe Vera Leaf Juice, Hydrogenated Castor Oil, Hydrolyzed Wheat Protein, Cod Liver Oil, and Vitamins A & E, to promote a healing and invigorating feeling to the skin and coat. Enriched with our exclusive fragrance of Piña Colada, this powerful blend will leave your pet's coat feeling soft, manageable, and drenched in an uplifting scent.
Our Aloe Vera & Oatmeal Conditioner offers many benefits to pets with skin problems, including moisturizing and soothing itchy skin. It also helps relieve symptoms of allergies, dry skin, and hot spots. Safe to use on dogs, cats, and horses.
Recommended by Veterinarians
Proudly made with love in the USA
Safe to use with any topical flea treatments
Free of Paraben, GMOs, Dyes & harmful chemicals
To ensure quality and safety, our products are made in an FDA-registered, NASC-certified, and cGMP-compliant facility.
Portions of all sales are donated
to various animal welfare organizations that focus on the health, safety, and psychological wellness of animals.